Schwant Tractor has been selling and servicing Zipper mowers since Zipper began in 1993. Zipper Mowers are very dependable and will provide you with a professionally manicured lawn. They have a variety of blades available for each mower that include: straight, mulch, & gator. Zipper mowers are manufactured in Augusta, Kansas. Zipper-TS & STS Mowers offer a complete family of Front Cutting Zero Turn Riding Mowers. With Engine sizes ranging from 20-hp to 27-hp and Cutting Deck sizes from the maneuverable 54" to the Mighty 74" Titan Pro.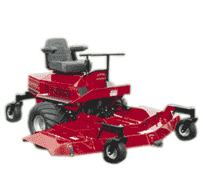 Each Mower unit is built with special attention to the overall quality of the product. From their Powder Coat painting to the precision laser steel cutting and welding, Zipper-TS & STS Mowers spare no expense to the quality of Finish and workmanship that is put into each and every mower manufactured. All mowers are test run and adjusted on the assembly line before being shipped. This ensures that YOU, the customer will receive a product that is operating at peak performance upon delivery.
Zipper-TS & STS Mowers offer three Air-Cooled mowers that feature the 20-hp, 23-hp and the New 27-hp Kohler Command Series Engines. We offer three Commercial Grade Mowing Decks, which include the 54" Super, 64" Magnum, and the 74" Titan. All three decks are constructed with the Lawn Maintenance Professional in mind and feature Reinforced front Bumper Plates, Double Plated Top Deck Surface, Greasable Spindles, Anti Scalp Rollers, Easy Access Belt Covers, Heavy Duty Gear Box, Quick Height Adjusters, Heavy Duty Caster wheel assemblies and Electric Hydraulic Deck lift as Standard Features. Electronic Flip-up is standard on STS models.