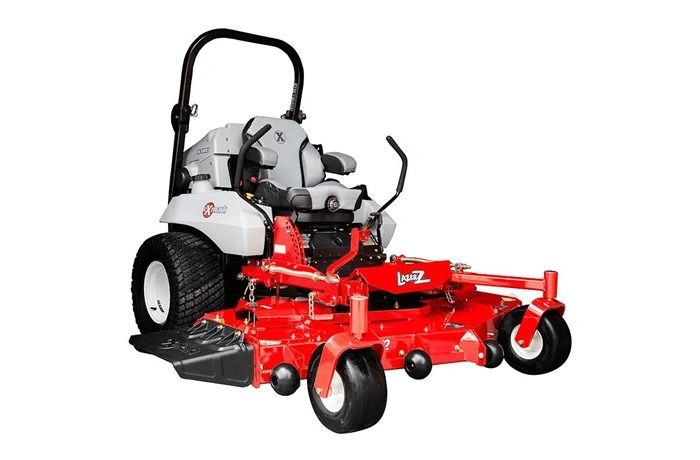 Since 1982, Exmark has been dedicated to creating incredibly durable, exceedingly innovative, professional mowers.
Whether you are a homeowner or a landscape professional, Exmark has a mower designed for you.
Exmark has designed their mowers to:
Dramatically reduce mowing time...
Achieve a professional-looking appearance every time...
Save you money because this is the last mower you may ever need to buy, and...
Enjoy mowing, because an Exmark is so maneuverable, so comfortable and easy to operate.
Please contact us with any questions on a mower, options and/ or pricing.
Demos are available per appointment.
In-House financing is available with approved credit.
Navigator Commercial 21 S &X Series
Model
Engine

Deck

Model

Engine
Deck
NVS640CKC42000

Kohler


42" center discharge

ECX180CKA2100

Kawasaki
21"
NVS740CKC4800
Kohler

48"center discharge
ECX180CKA21BC
Kawasaki

21"
NVS730AKC48000
Kohler EFI

48" center discharge
ECX180CHN21000
Honda

21"

ECS180EKA3000

Kawasaki

30"
QUEST E- SERIES QUEST S-SERES QUEST S- FRONT STEERING
MODEL

ENGINE
DECK
MODEL
ENGINE
DECK
MODEL
ENGINE
DECK
QTE452CEM42100
Exmark V-Twin
42" Series1
QTS452CEM34200
Exmark
34" Series2
QSS708GEM42200
Exmark
42" Series 2


QTE452CEM42200


Exmark V-Twin
42" Series2

QTS708GEM42200

Exmark
42" Series2

QSS708GEM50200

Exmark
50" Series2


QTE708GEM50200


Exmark V-Twin
50"
Series2

QTS708GEM50200

Exmark
50" Series2
PIONEER E-SERIES PIONEER S-SERIES
MODEL

ENGINE
DECK
MODEL
ENGINE
DECK

PNE651GKA48200

Kawasaki
48" series 2
PNS701GKC48300
Kohler V-Twin
48" series 3

PNE651GKA52200

Kawasaki
52" series 2
PNS720GKA52300
Kohler V-Twin
52" series 3

PNS730GKA604A3

Kohler V-Twin
60" Series 4



PNS740GKC60400

Kohler V-Twin
60" Series 4



PNS740GKC604A4
Kohler V-Twin
60" Series 4



PNS740GKC60RA3

Kohler V-Twin
60" Rear Discharge
Lazer Z E-Series Lazer Z Z-Series Lazer Z X-Series